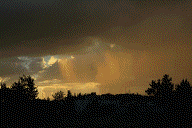 1998 trip across the USA!
At first we thought it was crazy to try to stuff camping equipment, parachuting gear, and other bare essentials in a Jeep and just take off for a 3-month tour of the USA, but Joanne and I did it during the months of August, September, and October of 1998. We left our jobs for a while to see what fun we could find, starting from Boston, Massachusetts.

We had an old laptop with us that we hooked up now and then to update this page (not while camping - we're not that geeky!) so you would be able to follow along on the trip.

It's too late to give suggestions, since our trip is (boo hoo) over.
---
Here are the best pictures from the trip! There's lots more work to do on this page, including re-organizing the pics, but here they are in bulk form for your preview.
---
Where did we go?
To find out, follow the little black line from Boston, west to the Pacific, down the California coast, through the Southwest, east to Florida, and finally back to Boston: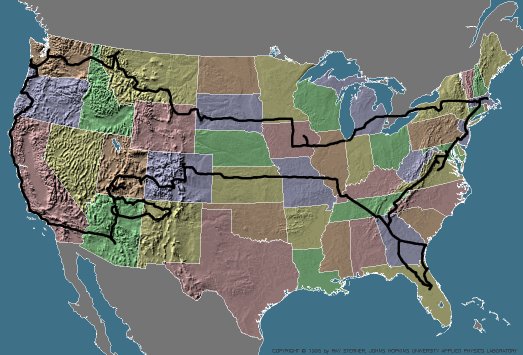 ---
Overnight Stops
Amherst, MA (Friday, July 31)
Ithaca, NY (Saturday, August 1)
Port Colborne, Ontario, Canada (Tuesday, August 4)
Benton Harbor, Michigan (Wednesday, August 5)
Utica, IL (Thursday, August 6)
Swisher, IA (Friday, August 7)
Sioux Falls, SD (Sunday, August 9)
Badlands National Park, SD (Monday, August 10)
Black Hills National Forest, SD (Wednesday, August 12)
Buffalo, WY (Thursday, August 13)
Bozeman, MT (Friday, August 14)
Lost Prairie Drop Zone, Marion, MT (Saturday, August 15)
Glacier National Park, MT (Sunday, August 16)
Polson, MT (Tuesday, August 18)
Coeur D'Alene, ID (Wednesday, August 19)
Leavenworth, WA (Thursday, August 20)
Lake Stevens, WA (Friday, August 21)
Ocean Park, WA (Sunday, August 23)
Portland, OR (Monday, August 24)
South Beach State Park, OR (Wednesday, August 26)
Oakridge, OR (Thursday, August 27)
Crater Lake National Park, OR (Friday, August 28)
Crescent City, CA (Saturday, August 29)
Garberville, CA (Sunday, August 30)
San Francisco, CA (Monday, August 31)
Seacliff State Beach, CA (Wednesday, September 2)
San Simeon, CA (Thursday, September 3)
Los Angeles, CA (Friday, September 4)
Palm Springs, CA (Monday, September 7)
Blythe, CA (Tuesday, September 8)
Chandler, AZ (Wednesday, September 9)
Sedona, AZ (Saturday, September 12)
Grand Canyon - South Rim (Ten-X Campground outside park), AZ (Sunday, September 13)
Gallup, NM (Tuesday, September 15)
Santa Fe, NM (Wednesday, September 16)
Page, AZ (Thursday, September 17)
Grand Canyon - North Rim, AZ (Friday, September 18)
Escalante, UT (Monday, September 21)
Hatch, UT (Tuesday, September 22)
Zion National Park, UT (Wednesday, September 23)
Bryce National Park (Teepee outside park), UT (Friday, September 25)
Moab, UT (Saturday, September 26)
Woodland Park, CO (Sunday, September 27)
Boulder, CO (Thursday, October 1)
Kansas City, KS (Sunday, October 4)
Marion, IL (Monday, October 5)
Manchester, TN (Tuesday, October 6)
Atlanta, GA (Wednesday, October 7)
Savannah, GA (Thursday, October 8)
Saint Augustine, FL (Friday, October 9)
Ocala National Forest - Juniper Springs, FL (Sunday, October 11)
Disney World - Fort Wilderness Campground, FL (Monday, October 12)
Disney World - Hotel Royal Plaza, FL (Wednesday, October 14)
Orlando, FL (Friday, October 16)
Gainesville, FL (Saturday, October 17)
Canton, GA (Sunday, October 18)
Pigeon Forge, TN (Monday, October 19)
Great Smoky Mountains National Park, TN (Tuesday, October 20)
Roanoke, VA (Wednesday, October 21)
Troutville, VA (Thursday, October 22)
Germantown, MD (Friday, October 23)
West Chester, PA (Monday, October 26)
Bethel, CT (Tuesday, October 27)
---
Drop Zones
Here's where we made skydives during the trip:
---
Travel Journal
Friday, July 31, 1998
[Joe] Well, today was the day! We loaded up the Jeep and drove out of the crazy Boston traffic for the last time in a few months. The Jeep is really packed full, but it looks like we have all we'll need. First stop was Amherst Massachusetts (where Joanne went to school). It's a cool place, and we've already seen a funky party at an art gallery where the DJ dude was very absorbed mixing and "scratching" some dance groove. Weird. Anyway, more of Amherst sightseeing tomorrow!
Saturday, August 1, 1998
[Joanne] It was pretty cool being back in Amherst. I really do love that area! The Campus Hotel looks like it hasn't been updated in 10 years, but UMass campus itself was beautiful. I was bummed because so many buildings were locked up tight, including the Fine Arts Center, where I wanted to show Joe the theater department, and my old dorm, Baker.

We had to stop a couple of times on the way to Ithaca to fix the stuff in the back so it didn't blow away (hey, the top was down because it was beautiful!), but we finally made it to Ithaca and Laurie and Steve's house.
Monday, August 3, 1998
[Joe] Dunbars is the exactly the same dive bar it used to be 10 years ago! We arrived in Ithaca two days ago, and it's great to see that not everything has changed about Cornell. In fact, so much is the same that it's really nostalgic. Yesterday we went seakayaking on Cayuga Lake, and today we will tour more of the campus.
Wednesday, August 5, 1998
[Joanne] Hmm, Joe isn't writing that much so it seems like it's up to me to fill in the blanks. Ithaca was lots of fun and relaxing with Laurie and Steve and the Cornell campus is really beautiful. So many gorges, trees, and sprawling lawns - and Joe was so excited to be there, we had a lot of fun walking around.

When we left Ithaca Tuesday morning, we drove to Buffalo to get some authentic Buffalo wings and ended up at the Anchor Bar where they originated from. They were good, but worth the trip? Then we drove into Canada up to Niagara Falls. Wow. They were amazing. The force of the water is enough energy to power a couple of cities (I forget which ones). We found a campground near Port Colborne to set up camp for overnight.

This morning we drove through Canada amidst the flowering fields. Unfortunately we couldn't put the Jeep top down because it was raining. True to form, it is raining on one of my vacations. It never fails! But at least this time I've got 3 months more to give me a chance at sunshine!

After getting yelled at by the American customs officer trying to get back into my HOME COUNTRY (long story), we drove and drove and drove through Michigan and finally stopped in Benton Harbor for the night.
Friday, August 7, 1998
[Joe] Why Swisher, Iowa?? Well, Joanne has an old roomate here who manages a horse riding farm that helps disabled people experience riding! And it's amazing looking out over the rolling hills and vast space out here. There are three major crops: corn, alfalfa (sp?), and soy beans. Miles of them. We are starting to experience the amazing and intense localized rain storms that you can see for miles (unless you are in the middle of one, and then well...).
Sunday, August 9, 1998
[Joe] Today was pretty much a driving day, and we ended up in Sioux Falls, South Dakota. We left the farm where Betsy was so cool and let us stay two nights at her farm house. Waking up to the snorting of horses was a unique rural experience! A highlight of our stay in Swisher was the local parade. This was a true small town phenomenon, and I'm glad we caught it.

I have to talk about what we did yesterday. We finally were able to get to a drop zone on a nice day (well, there were isolated showers) and make a couple of jumps. We went to Paradise Skydives in Vinton, Iowa. This was a really cool place, and it reminded us a little of our home DZ in its laid back attitude. The hangar was beautiful, and the people were very friendly and welcoming. Seeing the Iowa gridwork from the air (so green!) was amazing!

Before Iowa, we had driven through Canada (to avoid Ohio), where we camped at a little mom-and-pop campground with very green grass near the shore of Lake Erie. We never saw the lake, but this was our first night camping, and it was pretty hot. The next camping took place in Illinois; we stopped at Starved Rock State Park, and no, this wasn't wilderness, but it wasn't a bad place (except for the loser across the way who plopped his plump self down in front of his TV - outside - and cranked the volume of some weird musical Lawrence Welkian show). There are always a few...
Thursday, August 13, 1998
[Joe] Wow, it seems like ages since the last entry! There's a lot to tell, but I won't be able to nearly relate everything here; you'll have to get more details in person.

Anyway, we drove from Sioux Falls to "The Badlands," which was really the first landscape we saw that didn't look a lot like a cornfield. It was amazing: out of the green prairie came bluffs and buttes of beige earth. It got more intense as we approached, and when we were inside the national park it looked like a different planet. We got one of the few remaining campsites, cooked yet another great meal, and got ready for hiking the next day.

The Badlands are a mystery to me. There are these jagged peaks rising up from the grasslands that are basically made of mud. And yet they've lasted for millions of years! I haven't figured this one out yet. While we were hiking we managed to easily crumble parts of the terrain (which the park service encourages, since it's part of the "natural errosion" - actually they don't really encourage it, but some guy I ran into told me they don't mind so much because the next rain storm will erase footprints and cause further erosion anyway). One trail wound through rugged terrain and ended at a spectacular view of the Badlands, stretching out for thousands of square miles.

The next afternoon we witnessed nothing short of an awesome storm. I'm talking dark and ominous clouds and a wonderful lightning show. This is the first time we had to tie down the tent; the winds were wicked! And then as the sun shone through the heavy rain, we saw the most amazing rainbow I've ever seen. Vivid colors and a full end-to-end arch were right there, and a secondary rainbow outside the main was clearly visible!

We spent another night at the Badlands campsite, and who drove up but another green Jeep with Massachusetts plates! Stu and Deanna spotted us and asked for our story. Stu is a construction craftsman and inventor of high-quality Jeep racks, and Deanna just passed her final tests to become a CPA. Anyway, we decided to hang out with these fellow Bostonians and do some four-wheeling the next day (Stu is really into it, and he designed special heavy-duty racks for his Jeep to carry their cooler off the tailgate and luggage on top).

Wednesday, after stopping at [the famous] Wall Drug, Mount Rushmore (it kinda looks like 4 guys' heads - weird!), and Bear Country (a drive-through animal park where the really-very-large-bears block your progress in hopes that you'll get out of the car and become dinner), we Jeeped up into the Black Hills National Forest to find some dirt roads in especially poor shape. We managed to cross two streams in our travels (the dirt roads went right through the streams: a better design than most modern highway interchanges, I must admit), and we finally set up camp in the most beautiful spot I could imagine. With green hills and rocky slopes all around us, we were quite in the middle of nowhere. This was my idea of camping - something that is pretty much forbidden in New England. I guess land is so much more plentiful out here that it's quite OK to camp almost anywhere you please!

Today we ended our drive in Buffalo, Wyoming after stopping by Devils Tower National Monument. This is truly spectacular, and yes, more impressive than "Close Encounters of the Third Kind," in which the tower starred (along with Richard Dreyfus). I climbed up the lower section where boulders are all that is left of the crumbling chunk of volcano core, but left the upper parts to the technical climbers, who were scaling several of the many gigantic grooves that run up the sides of the formation. This thing certainly must be a rock climber's dream.
Tuesday, August 18, 1998
[Joe] Montana is beautiful! We got to skydive at Lost Prairie Drop Zone and hike/camp in Glacier National Park. We didn't see any bears though... More details later. I'm tired.
Wednesday, August 19, 1998
[Joe] Now that I'm a bit more rested and showered, I'll try to write a little about the last few days.

Lost Prairie Drop Zone is in the middle of nowhere! I really mean this. To get there, you have to drive 30 miles or so west of Kalispell, Montana, and then you have to find the correct gravel road. I'm starting to think this is "The Trip of Dust." The Jeep is so coated with dust that the black top is starting to look white. Anyway, after you drive down into a valley between the many hills, you have to look for some planes parked on your right because this is the only way you'll see the DZ. The people there are really cool, and the atmosphere is way-laid-back. We felt very welcomed, and we did a couple of great jumps. The view from freefall is spectacular!

The next stop was Glacier National Park. Let me just say that if it weren't for the motion of the glaciers over so many years, this place wouldn't be nearly as impressive. The whole park is filled with U-shaped, glacier-carved valleys. We did a 12 mile hike the first full day (after frigid 30-degree night air) up to an overlook. No, we didn't see any bears, but Joanne did see a frightening tree stump. The next day, we did a shorter hike after driving half of the Going-to-the-Sun Road (a misleading name).

Now, after staying a night in Polson, our next stop was Coeur D'Alene, Idaho. This is a great place to just cool down, jump in the lake, etc. Not a real Idaho potato to be found, however, which is very disappointing! On to Washington tomorrow.
Thursday, August 20, 1998
[Joanne] I thought it was time I helped Joe out on updating this page. Glacier is Bear country, as we were reminded pretty much everywhere. On one hike, we were pretty nervous going up but didn't see anything and didn't think any bears were around until the next person arrived at the top. She said she saw one and that THIS trail was pretty popular with them. Oh. Another trail we went on was closed halfway up due to bears. I thought they just closed the trails when a bear attacked someone. Hmm.

The Going to the Sun road is a narrow, ever-ascending road winding through a large cluster of mountains that allows views that were just really amazing.

After Glacier we went to a House of Mystery which is a shack tilted at a sharp angle on a hill supposedly from some mysterious earth vortex...don't get me started! It was totally lame. I took pictures of a double decker outhouse (???) and a very large chair. There WAS a cool maze that we walked through in another town that took me an hour to get out of.

We ended up in Coeur D'Alene, Idaho, yesterday, which we both really loved. Very neat little town, a bit touristy, nice restaurants (even if none of them had any Idaho potatoes!), cool coffee shops, and a great lake where I finally got to go swimming this summer! We shopped around a little bit for a cheap motel, and found a really nice one, and paid a little bit more than we wanted to, but it was worth it. The other day every place we went to was more expensive than the last one and we drove for an hour and a half until we decided just to take the next one. Sometimes it pays to be frugal, and sometimes it doesn't!

Today we ended up in Leavenworth, Washington, which is a bavarian town in the middle of nowhere! I heard all the buildings HAVE to have this certain bavarian look. This includes McDonald's, Burger King, gas stations, everything! So we got some german food to go along with the theme.

Certain things I've picked out along the trip. South Dakota (I think) had lots of fields with tons of sunflowers, these bright yellow patches in the midst of light brown, lightening up the highway. Glacier had huge fields of wildflowers, all different colors. And here's a strange one. A number of states we've gone across have been kind of brownish, with few trees on the eastern side, but hilly/mountainous with lots of trees on the western side. South Dakota, Wyoming, Montana. You can't really count the panhandle of Idaho. And now Washington.
Tuesday, August 25, 1998
[Joe] The first place we stopped in Washington was Leavenworth. This is a Bavarian village. Under penalty of death, all signage must be in Bavarian style. Any restaurant not serving bratwurst will have its license revoked. They are serious about this community.

Hiking to Colchuck Lake in the mountains nearby was a breathtaking experience. It's a cobalt blue/turquoise, and it's at 6000 feet or so. I mean, you can't get to this lake except by hiking about 4 miles! Awesome!

We visited my cousin Laura and her family in Lake Stevens, and they showed us Seattle and let us jump on their trampoline. It was great to see Laura after so many years, and they all were really, really nice to us. Thanks guys!

[Joanne] And their daughter Haley (who just had a birthday) lent us her room to stay in, which was pretty cool. We also visited with my friends Shaun and Janice, who are Boston natives like me but migrated to Seattle and love it.

Then we headed out of Seattle to visit my Aunt Alice. I haven't seen her in years but she had a great dinner ready for us when we pulled in and we had our own room too. It was great to catch up with her! We also went running the next day to attempt to stay in shape. It's been really difficult, riding in the Jeep for so long, but we're trying! And seeing a beach again was inspiring!

[Joe] Joanne's Aunt lives in Ocean Park, so we visited this remote town. Talk about "getting away from it all," this is one remote place. It's on a strip of land so narrow you can put one foot in the ocean and one foot in the harbor. Just kidding, but it's narrow.

Portland, Oregon is pretty cool. It's the "epicenter of microbrews." That's a good thing. Next stop is Crater Lake, which I'm particularly excited about! I used to read about it in the encyclopedia when I was very young. I don't know why, but I now will finally get to see it in person!!

[Joanne] We stayed with ANOTHER relative of mine who had migrated originally from Boston but has lived in Hawaii and Japan as well. My cousin Ellen gave us our own little suite in her house and helped us get to know Portland a little bit better. I'd been there a couple of years back and really liked it, but it was good to get an insider's point of view.
Saturday, August 29, 1998
[Joe] Whew...lots to say! Well, I'll have to keep this short and still get this stuff across...

Anyway, in Portland we visited the Rose Gardens and Japanese Gardens. Impressive! After that, it was off to the Oregon coast for some camping near the beach. We ran up to the beach to try to catch the sunset, but there were some clouds on the horizon that sorta messed up that plan. The next day we rented some bitchin' 4-wheel motor things and cruised around the dunes - BUT I got stuck a lot. Not my forte'! We also saw the Sea Lion Caves: they actually installed an elevator that goes down 200 feet through the rock!

[Joanne] Yeah, the dune buggies were pretty fun, but half the time was spent wondering where Joe was and OOPS! There he is, I'll have to help him get unstuck again! :)

The Oregon coast is beautiful, with lots of craggy rocks jutting up near the water's edge. But the water seemed really brown near the shore, then turned green then blue as it moved out. It didn't LOOK polluted, but I couldn't figure out the color, since on the northeast coast it's mostly blue, or blue/gray, but clean.

[Joe] Next was Crater Lake, which is an old volcano that collapsed into itself forming a very blue lake. Very beautiful, and we even got up early this morning to see the sunrise over the crater. I hope the pics come out. I hear cameras can't pick up the true blue of the lake. We'll see!

[Joanne] In Crater Lake NP, we hiked up Mount Scott, the highest point in the park. Then the next morning we got up and broke camp in the dark since it was FIVE A.M.! That's right! We read about someone who had seen the sunrise over the lake in a particular spot and thought it was a cool idea. We drove to the same spot, had cereal and made coffee and watched the color of the sky change as the sun slowly crept up over the trees.

Of course, I was exhausted later on (I'm NOT a morning person), but it was well worth it!

[Joe] Oh, one more cool thing! I went on a short hike up Table Rock, which is a large, flat "battleship-shaped" plateau (well, not really, but that's what the book said), and on the way down I saw a rattlesnake! I mean, the sign mentioned "rattlesnakes and poison oak," but did I expect to see any? No. But there it was, coiled at the side of the trial, making some noise as I passed. After passing it at a safe distance, of course I fished in my pack for the camera, and I got a picture of the rear half as it slithered into the brush!

Crescent City, California must be the foggiest city in America. They say they have 20 nice days a year, and it is FOGGY here but sunny just 10 miles outta town!
Monday, September 7, 1998
[Joanne] After Crescent City, we tried to get out of the fog, but found that it followed us down the whole coast of California, possibly due to El Nino, but also not unexpected for this time of year apparently. We got to Trees of Mystery, which was a large grove of redwoods and sequoias in weird natural shapes. Then we went to Redwood National Park, and went on a couple of trails. The redwoods grow the tallest and the sequoias grow the fattest.

We stopped overnight in Garberville, CA, which is at the end of the Avenue of the Giants, then the next day made our way to San Francisco. Driving down route 1 was an experience! Very slow going because the curves are very sharp. I got nauseous being the passenger, and couldn't wait to get off that road! We spent a couple of days in San Fran walking around, riding cable cars, shopping in Sausalito, and visiting Alcatraz. There was a really nice Thai restaurant we just happened upon that had delicious food. We also went to dinner in Palo Alto with a friend of Joe's, Sandra, who just moved to Mountain View from Boston.

We left San Fran on Wednesday, and wound our way down the coast, hoping to see some beautiful views. Santa Cruz was our next stop, where we rode the roller coasters and walked the boardwalk. One roller coaster had a video camera that took pictures of everyone going down one of the hills. We got on it several times until we figured out where the camera was and got a great picture of us! I can't wait to have it go on the website!! We camped at a state park next to the beach that didn't have an efficient way of picking out campsites, especially as it got darker.

The next day we skirted Monterey and stopped at a drop zone to make a jump, but all the experienced jumpers were not there, probably gearing up for the Labor Day weekend. A lot of drop zones were having plenty of festivities this weekend. So we drove on and stopped at a winery and ate at a restaurant right next to it. I started wondering why there were so many people at this restaurant. It was about 2 or 3pm, on a Thursday. Why weren't they in work? Could they ALL be on vacation like us? Hmmm.

Next we visited the Point Lobos State Reserve and saw sea lions from the rocky cliffs. I tried to be artistic with some black and white film, but we'll see how they come out. There were some really cool, peaceful trails. We had gone to the Japanese Garden in Portland, OR, and Joe had said if we lived there, he could see himself going back there again and again. Well, this was MY zen garden!

The twisting road of route 1 definitely keeps you on your toes, especially with some road construction going on. We did get to a point where the fog wasn't so bad, and saw a gorgeous sunset, the first one we've seen on the west coast!

It was too late to look for a campground, especially since we needed to get some food as well, and there was NOTHING in the form of a grocery store for more than 40 miles. So we motelled it in San Simeon (I think).

On Friday, September 4, (I can't believe it's September), we hung out in Santa Barbara then finally made it to L.A. where little sister is! We went to the Bargain Klown Mart club, which you wouldn't know that it was a club, except for the people waiting in line outside. Very bizarre about L.A. I guess that's pretty typical of the club scene here. We met some friends of Erin's, and more on Sunday night when she and her roommate threw a party. Lots of people in "the business" (that's film for those of you not in the know), but we had a fun time. We even got to fit in some hiking time in the Santa Monica mountains!

I'm not exactly sure what our next stop will be, but stay in tuned!

[Joe] Ah the coast. The foggy, foggy coast. It hangs there like a giant benevolent storm just off shore and sometimes streaming up over the hills and curves of the Pacific Coast Highway (Route 1). The temperature change is also dramatic! We went from steamy heat inland to bone-chilling damp cold at the coast.

San Francisco is a happening place. Perhaps too happening! The traffic can be abysmal, and you definitely get the feeling everyone there is trying desparately to stay on the top of the heap. The streets were wild too! I had forgotten how steep they can be. Alcatraz (which means "pelican") was intense. We shot black and white pictures while trying desparately not to catch anyone else in the frame - not easy (damn tourists).

Driving down the coast was great, and finally finding the end of the fog was a pleasure! We even photographed our first west coast sunset from Route 1 - amazing! Our first night in LA was highlighted by our visit to the Bargain Clown Mart - oh yeah, that was really a night club called "The 3 of Clubs," and it had two rooms, both with black walls. The back room was a sort of lounge with comfy sofas and a way-cool band consisting of some musicians and a lead vocalist who was bathed in blue light and adorned by two orange table lamps at her side. Whoa - some cool jazz and blues came forth from that ensemble!

On Saturday I went to Skydive Elsinore. COOL PLACE! It's a really nice drop zone with very welcoming people. I got on a couple of large loads (20-ish ways) that were only moderately successful, but lots of fun, and then we did a rather hot 4-way (well, not the most graceful I've felt, but a good challenge). Of course I met friends of friends, quite common in the skydiving world. I hope to visit that place again sometime soon!
Friday, September 11, 1998
[Joe] After leaving LA we stayed a night in Palm Springs, and then drove on to Joshua Tree National Monument to do some hiking. This was desert! We climbed a rock formation and then proceeded to get lost, but the GPS saved us...

We finally arrived in Chandler, Arizona (near Phoenix), where my Aunt Marcia and Uncle Ralph live. They, along with my cousins, have been showing us a great time and making us feel very at home here in Arizona! It is so hot here (we worked out yesterday morning, and it was, um, exhausting!).

My cousin, Sara was a great tour guide as we sampled some authentic(ally hot) mexican food and went into Phoenix to look around. She also showed us some night life in Tempe. My other cousin, Amy's daughter had a birthday party after which we played pool with my yet other cousin Wendy, her husband, Rick, and Sara's SO, Ernie. Cool times! Thanks guys!!

Tomorrow we depart for Skydive Arizona (in Eloy), and then on to the Grand Canyon!
Tuesday, September 15, 1998
[Joe] Well, we only made one jump at Skydive Arizona. It's a place with great facilities, but one drawback is the bus ride to the airplane, and in this heat, well, let's just say we did a "no-suiter" (no jumpsuit). This DZ seems really into team practice (serious skydiving), which perhaps isn't a surprize since they are hosting the nationals this year.

We got a couple of recomendations to visit Sedona while in Arizona, and this proved to be well worth it! It's absolutely beautiful, with red canyons and buttes everywhere. It's a new-age kind of place: we're talking crystals, energy vortices, earthy-crunchy music, etc. I really liked it. It had a great artsy feel! We completed our Sedona experience by sliding down the natural waterslide of Slide Rock. I'm enlightened.

Next was perhaps the grandest of places: The Grand Canyon. See it if you haven't - it's beyond words! We found a great campground outside the park (Ten-X campground) with a nice older gentleman who hosted the place and sold awesome firewood. Anyway, we went to the South Rim, which is the touristy (crowded!) side of the canyon. We ended our first day by attending a sunset walk, which was hosted by a very unusual park ranger, but wow could he tell a story. I think he must be from Sedona.

There was a dark moment right before sunset. It will forever be etched upon my mind. An elderly woman was crawling and hopping on the rocks too close to the edge in my plain view when she lost her hold and tumbled off the rock. She fell off three or so successive ledges as her momentum rolled her. One of her falls in particular was fairly severe, and I really didn't know if she would make it through the experience. A man started yelling that it was his wife, and several people, including her son, started climbing down to her. The ranger called for help, and the rescuers were on their way. Joanne and I decided to leave the area in order not to get in the way of the arriving help; there were probably more than 50 people at the scene, and the curiosity factor with a group this large surely couldn't help. The next day we learned that the woman had survived and was in the hospital. Bottom line: respect the Canyon.

We didn't do much hiking at the South Rim, because we're going to the "other rim" (that would be the North one) in a few days. It's supposed to be much more rustic and less crowded.

Today we drove to Gallup, New Mexico (got that song in your head yet??), stopping at Meteor Crater and Petrified Forest National Park. The latter is, like, a bunch of trees, like, a long time ago they turned to stone and stuff. Dig? Joanne plans to add her part of the story tomorrow night, so stay tuned!
Thursday, September 17, 1998
[Joanne] Well, I don't know what song Joe is talking about. Do you?

We pointed the Jeep toward New Mexico, but Joe made us stop at the Meteor Crater (which I found out later he has been to twice already!). It was pretty cool, but after 5 minutes, I was done. :) Then we cruised through the Petrified Forest National Park because we only had 30 minutes before it closed. What a gyp! You have to pay $10 to drive more than 20 miles of pretty much nothingness to see a bunch of rocks that, oh, they were once trees. Very boring. I'm glad we have our Golden Eagle Passport, which allows us access to any and all National Parks for 1 year! There was one positive note to this - we saw another gorgeous sunset! (Well, did you REALLY think it would be another sun RISE with me??)

We spent the night in Gallup, NM (totally lame) then stopped next in Albuquerque (sp?), and went to Old Town, then Santa Fe. I'm really surprised by New Mexico. I thought it would be a lot more desert, but we left Santa Fe today (Thursday) and drove through a mountainous area with lots of trees and camping areas. It's really beautiful, and not as hot as Arizona.

Now we're heading back to the Grand Canyon to hang out on the North Rim, where it's not as touristy, but we actually made reservations for the campground right in the park to make sure we have a spot. We took a small detour to Four Corners, the only part in the country where the corners of 4 states meet. Yeah, we took a picture of us in it!

So after the Canyon, we may head to Vegas for a day, then it's up to Zion to meet up with my friend Allison to check out the Utah hiking experience!
Monday, September 21, 1998
[Joe] The North Rim of the Grand Canyon is only 11 miles from the South Rim - if you fly! We could actually see the light glinting off of cars on the South Rim while we were perched upon the rocks during our first North Rim hike. But to drive is over 200 miles of winding roads.

That first hike was to Uncle Jim Point, which is on the rim, but our hike the next day was down into the chasm. We took the North Kaibab Trail about 5 miles down switchbacks looking for Roaring Springs, which supplies all the water for the thirsty people on the rim. Unfortunately, the maps were not well marked, and we never quite made it to the springs, but instead had lunch in a nice red-rock alcove past a bridge crossing the Roaring Springs Canyon. If you want to sense the vastness of the truly impressive Grand Canyon, hike into it. You will come away with a lot of respect for this sculpture that nature carved over the last millions of years.

Camping in the park was nice, but a little more "open" than other campgrounds we have encountered. The North Rim is indeed less crowded than the South Rim, and it was great to see the Canyon from a different angle. The shadows were more pronounced, and the viewpoint we had was deeper into side canyons, but I'd say the South Rim views are more vast and bright.

We made it into Utah today, and there are some amazing sights yet to see. We stopped by Bryce National Park on our way to Grand Staircase Escalante National Monument (just rencently dubbed this by Bill Clinton). We will venture into this solitary landscape tomorrow, after a night in the town of Escalante, which is, um, a small town. We've encountered a number of these. What do these people do for a living?
Tuesday, September 22, 1998
[Joanne] The North Rim definitely had a different feel to it than the South Rim. I think if you want a larger, vaster view, the South Rim is it, but it's just so crowded there! The North Rim has more of a mountain feel with pine and birch trees surrounding the area, and more greenery in the canyon.

I've discovered that there really are not a lot of trails for day hiking at the Grand Canyon. There are a few on the rim, but those are crowded with people (naturally), and a few that go down into the canyon, which can be crowded near the top. I think the real way to do the Grand Canyon is to backpack down to the bottom and hang out down there - something I'm going to work at getting to, maybe even this century!

At our campsite on Friday night, after dark, 2 German women, Nicole and Corrine(?) asked if they could plop their tent in our campsite. The North Rim is really remote, and if everything is booked (both campgrounds in the area) there is literally NOTHING for miles around. So we shared with them. Joe mentioned he has seen so many Germans in the area, and the 2 women shared his surprise. There really ARE a lot of Germans in the area. Maybe there is a special rate on Lufthanza to the American Southwest!

Escalante doesn't have much to offer as a town. None of the hotels have phone lines to set up a modem with, and the one "grocery" store they have is very limited. We had a terrible breakfast this morning (9/22/1998) at some dinky diner (I ordered scrambled eggs with some cheese and got cheese, I mean LOTS of it, with some scrambled eggs) then hiked the Lower Calf Creek trail that led to a beautiful waterfall. After doing some 4 wheeling, we headed back toward Zion where we are going to meet up with Allison tomorrow. I can't wait!

[Joe] Oh my God!! Yeah that breakfast place in Escalante was BOGUS! Maybe people in that town like lots of cheese. Maybe they order "a mess of cheese fried in some oil, please" or something. Who knows. They did seem to have a sense of humor on the menu though: the first item was, "Tomato Juice, 2 raw eggs, and 2 aspirin tablets." This in a town in Utah, where there are no bars! Do you think these people get the joke??

Anyway, the hike was beautiful. It was the coolest waterfall I think I've ever seen. I guess there was something about the way it fell in a graceful arc and glanced off a rock outcropping halfway down. And that green pool of water at the bottom was incredible. It was surrounded by eroding sand that was beige on top and black underneath. Interesting.

So Grand Staircase Escalante is pretty cool (especially for a new National Monument)! We are not spending the night in Hatch, Utah, where we can finally hook up to the Net. Hurray for Wild Bill's Motel. Or is it The New Bryce Motel? Or maybe Canyon View Motel??? Nice when a place tells you one name on the phone and the sign says something different. Oh well!
Wednesday, September 30, 1998
[Joe] As we first drove into Zion National Park (people from Utah call it "Zion's"), I have to say I wasn't overwhelmed. I mean we had recently been to the Grand Canyon, so perhaps this was a bit of a letdown. But maybe not; read on.

We met Allison (Joanne's long-time friend who flew out to meet us) on Wednesday afternoon after finding a campsite. We decided to go on a short hike that day to see what was "behind the scenes" at Zion, and this proved that you can't really see a park by driving through it. The hike was to "Emerald Pools," and it took us to several different pools of water along a cascaded stream/waterfall. The hike was about 4 miles total.

The next day we decided to do a longer hike, this time to a place called, "Observation Point." The top provided a great view of Zion Canyon, but the best thing about the hike were the sights along the way. There was a narrow, wavy canyon deeply cut into the rock that was very eerie and organic in its shape, and there were some very cool colors on some of the rock walls higher up. The stripes and patterns formed by the various rock formations were incredible.

Geez, it seems like we are on the "National Park Tour!" Our next stop was Bryce, and we elected to go on a horseback ride (mine was actually a large mule, but...). Our guides were two very self-proclaimed cowboys who told bad jokes and pointed out stuff along the way. Bryce is an unearthly place with orange eroded structures called "hoodoos." The Native Americans thought these pillars of rock were men turned to stone. We concluded our Bryce experience by staying in one of the semi-tacky teepees. The one thing we all remember is how cold it was that night. Brrrrr.

We then drove to the eastern side of Utah and did two afternoon hikes at Arches National Park. There are 2000 or so official arches, but we only saw a handful. There is an arch called Landscape Arch, which is in danger of crumbling at any moment (good thing we saw it), and we made the hike (looked more like a pilgrimage) to Delicate Arch, which is the most famous (you see it in all of the pictures). We hiked up a long hill to watch the sun set on this structure. Most spiritual. The hike back was highlighted by a brilliant appearance of the planet Jupiter, whose moons could be seen through our binoculars. Cosmic.

After staying a night in Moab, we drove on to Colorado. We stopped at a gas station just over the state line in a town called Mack. There is a lady there who has been keeping a log of where people are from for many years, and she has logged hundreds of countries. She showed us her old spiral binders of log entries. Talk about time on your hands!

Woodland Park is home to Joanne's aunt and uncle, who have been very cool and have showed us much of the area. They even got us a room at the marvelous The Lion and the Rose Castle, which, well, is nothing short of royal. This place is quite remote, filled with wild antiques, hosted by an interesting and really nice couple, and just somehow takes you back in time. We stayed in the Lion Room, which had a perfect view of the mountains, including Pike's Peak. Check this place out if you want to experience a really special bed and breakfast.

After our night at the castle, we went off-roading. This was serious! There is a forest service road that is heavily rutted, steep, and rocky (boulders?!), and we tackled it nicely I must say. We spent two hours in these woods, mostly trying to find our way out (but we had the GPS, so we weren't too worried). I now know how fun real off-roading can be!

Tomorrow we're off to Boulder to sample yet another Colorado city.
Monday, October 5, 1998
[Joe] We rolled into Boulder after fighting tons of rush hour traffic in Denver. I guess there is traffic outside Massachusetts. Anyway, Boulder has what many towns out here lack: good coffee. And apart from the coffee, food, etc., Boulder seems to be otherwise "up with the times." It doesn't hurt that it sits at the foot of the beautiful Rocky Mountains, which we drove into the next day.

My co-worker, Dennis, lives there, and he (and several of his friends, which is pretty much the whole town) showed us some of the nightlife in Boulder. During our bar-hopping, we visited one of the only bars where people smoke indoors (Boulder pretty much forbids smoking in bars, which I must say is kinda nice).

We visited the local drop zone, which is only 12 miles away, but the weather wasn't cooperating, so we couldn't jump. Oh well.

The next stop was after our longest day of driving so far: about 10 hours and well over 600 miles! We made it almost to Kansas City on the Kansas side in an amazing rain and lighting storm! The news of flooding and the misery of driving in the rain forced us to stop (well, we had pretty much made our goal anyway). The next day still brought rain, but we made it to Marion, Illinois after seeing the wild Saint Louis "Archway to the West." It was neat to see the rain running down the side of the arch.
Saturday, October 10, 1998
[Joe] We made it to Florida in time to surprize my mom on her birthday, and we made it to Saint Augustine yesterday! We had a great dinner with my parents and my Aunt Pat and Uncle John! I'm going to let Joanne tell the tale of our travels here from Saint Louis.

[Joanne] Basically the rain has followed us across the country. Everywhere we've been since we left Boulder it has rained. After Marion, IL, we drove south on Tuesday morning and tried to make it to Nashville by lunchtime. But Metropolis, IL was due a visit since they claim to be the home town of Superman. We took the gratuitous (sp?) picture of me in front of the man of steel, then drove into Tennessee (with a short stint in western Kentucky) and got caught in MAJOR traffic. But it had its good points because it forced us to take a road that we would not have taken which had some really pretty scenery. I never knew Tennessee was so nice.

We made it to Nashville by dinner and had some great ribs and baked beans! Not being country music fans, we didn't feel like hanging out there for very long and drove south some more to Manchester, TN for the night.

One of my friends had given us a gift certificate to a Marriott hotel, and we thought this would be a good time to use it. On Wednesday we made it into Georgia and checked into the Atlanta Marriott. We had driven every day for many hours and we were tired! So it was nice to relax in a *suite*, work out, swim, and just plain hang out. We started to walk around to look for a good jazz bar that night, but, of course, it started to rain again, so we bagged it and headed back to our luxury rooms. :)

Thursday we drove to Savannah, GA, and the motel we stayed at was on the opposite end of the spectrum of what we had just come from!! We walked around the old town, got some southern cooking, and checked out the riverfront. Now, I haven't been to Georgia in about 10 years, and I had just been driving through then, but I remember this horrible smell that permeated throughout most of the state. And it's still there!! Although I didn't smell it much in Atlanta, it was very strong near Savannah, then the rest of the drive south to Florida. Sorry to offend any Georgians out there, but what the heck is that?!??

Friday we left our semi-dumpy motel and made it to St. Augustine, FL. to surprise Joe's mom on her birthday. Boy was she surprised! It was really great! We went out to dinner with his folks and I met his aunt and uncle at the restaurant. The waiters came over and sang some italian congratulations song and brought ice cream. It was a treat!

Today we just spent some quality time with his folks. We made dinner there which was a nice change from eating out all the time. And Joe's mom shared with us a lemon liqueur that she had bought a year ago in Italy, the only place you can buy this particular liqueur.

I can't believe we only have a couple of weeks left to our trip! The time is really starting to fly now, and we're starting to race through our minds what we really want to do and see before this trip is over. So, of course, we're going to Disney World! We're going jumping tomorrow, then Monday through Friday will be camping in Fort Wilderness campground in Walt Disney World while we take in the theme parks. Yeah, it's a bit commercial after the other stuff we've done on this trip, but who cares? ;->
Saturday, October 17, 1998
[Joe] Camp Swampland. That's what Joanne dubbed our campsite at Disney World. But more about that later. We are now in Gainesville, Florda visiting Joanne's cousin. Last night we spent in Orlando with a childhood friend of hers who now works at a bar that was not too crowded for a Friday night. This after four nights in the unreal universe called Disney. Just before that we stopped by Palatka to make a couple of skydives. There are some nice people there, and the jumps were high quality. That evening we camped in Juniper Springs and swam in the natural spring pool!

We had thought it a very cool idea to camp in what we expected to be a rather delux campground, given that it was endorsed by Mickey. It was nice, don't get me wrong, but this is Florida, and it poured buckets the first afternoon - fortunately we had just set up the tent and decided to head to the bar. Nothing dries in Florida, and to top it off, there was quite a swamp now around our site. The sites were high enough not to get flooded (someone had some forethought here), but the frogs gave us quite a performance that night. I never knew frogs could sing that loudly. Anyway, after two nights we gave in and got the only hotel room left anywhere. I guess others had the same idea.

Disney is really a fun place, and there is a lot of new stuff there. One of the highlights was Blizzard Beach, which is set apart from other water parks because it is supposed to be a ski resort that is continually thawing out. Innovative. Anyway, there's a 120 foot almost-vertical water slide that was a blast. One night we paid $10 more to ride the good roller coasters in the Magic Kingdom with small lines. It was great to ride Space Mountain three times in a row without really waiting in line. Another cool thing at Disney is Pleasure Island. It's a bunch of night clubs and a nightly "new years" celebration. Pretty fun.

Next we head back into Georgia and then on to the Smoky Mountains!
Tuesday, October 27, 1998
[Joe] Yeah, it's been a while since the last update, but hey, we're busy! Anyway, not much time now, but we've been through the Smokies, the "skydiving" wind tunnel at Pigeon Forge, and Virginia to land at my friend, Leslie's town near DC.

She's just begun to skydive, and we visited her drop zone, Skydive Virginia. Great place! More later.

Joanne has an update that she'll put up here when we get back to Boston. We're now in West Chester, PA, where I spent much of my young life.
Friday, October 30, 1998
[Joanne] On Tuesday, October 20, the sky did clear up and the weather was beautiful. We set up the tent at the Elkmont Campground in Smoky Mountain NP, even though it was a bit damp, and went for a hike on the Rainbow Falls trail. Even though we hadn't hiked for a while, we seemed to cruise up the trail! We THINK we made it to the falls. We did come to A waterfall, but the trail didn't end, and after walking up another 20 minutes, and not coming on anything, we turned around. The map wasn't the greatest, that's why there is some confusion. It was a crisp fall day, with the smell of the decaying leaves in the air, and the sun low in the sky by the time we headed back down the trail.

Wednesday we packed up camp and went to a crafts fair in Gatlinburg, TN. This was where we got a real taste of the local flavor! There was a country singer entertaining people while they browsed over the tables of local crafts people. There was everything from patchwork quilts to Christmas ornaments, from woodworking to glass figurines. Joe got a magnesium flint firestarter, something he has talked about wanting to get since the beginning of the trip. Yeah, maybe it's a little late for this trip, but there are always other trips!

Joe and I drove to the Shenandoah winery in Virginia and got a personal tour since we were the only ones there.

Thursday was spent driving toward Washington, D.C. We made a little foray to Luray Caverns in Virginia. They claim they are the biggest cave on the east coast. It was pretty impressive, with huge stalactites and stalagmites, a reflecting pool, and an organ that makes music by tapping different stalactites. We stayed at a hotel for free because the heat wasn't working in our room.

Friday we parked in Pentagon City, then took the Metro into D.C. We saw the White House (no tours today), the Washington Monument (no tours either), the Lincoln Memorial, the Jefferson Memorial (because Joe felt bad for Jefferson since the Memorial is not quite near the other ones. Huh?), and the Smithsonian castle to get an overview of which museums to see. I had thought there was just one museum. Uh uh.

We took the Metro back to our Jeep, and after going the wrong (and long) way and ending up in D.C. again, we made it to Germantown, MD, north of D.C. to visit with Leslie, a friend of Joe's. She took us out to a brewery in Bethesda for dinner where our waiter was not very enthusiastic about serving us. We seemed to have met a few of these on our trip!

Saturday, October 24, the three of us took the Metro into D.C. and got a tour of the Capitol. Congress is not in session, so nothing exciting was happening, but the building was amazing architecturally. We finished the tour and got to walk around by ourselves.

We made it to the Museum of Amerian History, and got to spend a little time there before it closed. Leslie and I toured the First Lady's wing while Joe endured it. I don't think he was too interested in the clothing of the different time periods. But his heart was beating again in the wing of Information Technologies!

When the museum closed we wandered over to Chinatown and found a great...Irish bar? Yeah, Fado' was this pretty cool place (the interior decorating reminded me of how Disney World gets way into that stuff!). The beer and food was good, but still, pretty weird to be in this kind of bar while in Chinatown.

On Sunday, Joe and Leslie went jumping. She just got off student status. I hung out around Germantown, went to the mall for a few things, hung out with the cat...y'know, pretended I was home and it was just like any other Sunday. When they came home, we went out and got some Maryland blue crabs. I'd never had them before so I didn't know how to eat them, and they are so different from eating lobster, but they were really good! They're smaller than lobsters, so instead of just getting one, you order a dozen, or, like we did, all you can eat.

On Monday we left Leslie's and drove through Delaware to Pennsylvania. We visited the Longwood Gardens, which is an estate with lots of fountains, a huge greenhouse full of various plants and flowers, and cultivated gardens outside. Despite the cloudiness, the flowers and greenery were beautiful. The only disappointment was that all the fountains had been turned off for the season. Joe used to live nearby and came here a lot, so he had to describe to me what the fountains looked like. Afterwards, we stopped by his old neighborhood, then went to a martini bar in West Chester, PA.

Tuesday we went to Philadelphia and took a tour by horse and carriage around the old historic district. I was determined to have a philly steak and cheese, but it turned out it wasn't so good. Figures! But then we got a little tour of Independence Hall, and saw the Liberty Bell. We didn't spend too much time in Philly because we knew traffic would be hell trying to get out of there so we left late afternoon, and ended up spending the night in Danbury, CT.

Wednesday we packed the Jeep for the last time and headed home. The foliage is beginning to wane, but the tree-lined highways look similar to the highways we drove in Virginia. It was very strange to see names of towns that were familiar (y'know, like BOSTON) and not have to look at the map to figure out where we need to go. When we stopped for gas in Massachusetts, I hopped out of the Jeep and strolled over to the Visitor Center. Habit, I guess. The guy inside told us to take the Freedom Trail all the way over to Charlestown, then take a ferry ride back to Rowes Wharf for a buck, then have a great Italian dinner in the North End. Sounds like good advice to me!
Sunday, November 1, 1998
[Joe] I really didn't talk too much about Flyaway, the skydiving wind tunnel in Pigeon Forge, TN. It's a cylindrical room with a big "fan" at the bottom blowing air up at over 100 mph. It attempts to simulate freefall, and you can indeed float on the airstream, but it is quite different for people who usually skydive in the real sky! Joanne and I both had trouble when we started to fall out of the airstream. You see, when you skydive, you can use all of the parts of your body to fly, but in the tunnel, if a leg starts to go outside the airstream, you no longer can use that body part to "get back into" the stream! It was really freaky, however, to be able to hover and move up and down within a room. Being 20 feet up in the air and looking down at the floor is interesting!

I didn't get much of a chance to talk about Skydive Virginia either, but it's a really great DZ. Tonney Boan, DZ owner, and I talked about all of our mutual friends in the skydiving community, and my two jumps were fun. It's great to see my friend, Leslie, enjoying her beginnings in the sport. I remember when I was there, and it's cool to remember those times through someone else!

We arrived back in the Boston area on Wednesday, October 28. It was strange driving down the familiar MassPike. It looked different somehow. We had been so many places: for three months we were on the move. Three months of change had happened at home, and in fact people I've spoken with told me it seemed like not much time had passed. For us, lots of experiences have enriched our lives, and this was truly a great journey.